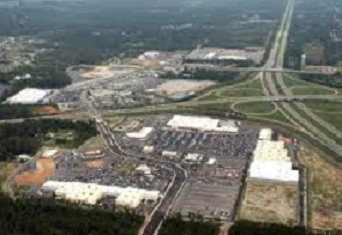 Overlooking Biloxi's Back Bay on the Mississippi Gulf Coast, West of St. Martin, D'Iberville is centrally located between Mobile and New Orleans right on Interstate Highway 10 with convenient access to all the coastal towns.  Just over the bridge to the south is located Keesler Air Force Base and the coastal highway with its many casinos.  D'Iberville has become a central shopping area in recent years. The area offers a thriving business climate along with beautiful scenery and many choices of recreational activities.
Linked by their common heritage and industry, the cities of Biloxi and D'Iberville were also linked by ferries and boats. Later a bridge which entered D'Iberville on Central Avenue was completed and thus commercial development grew in this area, complimenting existing development along D'Iberville waterfront on the back Bay of Biloxi.
World War II brought another economic boom, with the opening of Keesler Field (now Keesler Air Force Base) in Biloxi, along with shipyards in Biloxi, Pascagoula and New Orleans, and D'Iberville gradually became primarily a bedroom community for workers in these larger cities. While one of the oldest settled areas in Mississippi, D'Iberville just became an incorporated city in 1988.
D'Iberville, located on the north shore of the Back Bay of Biloxi in Harrison County, is named for Frenchmen Pierre Le Moyne, Sieur d'Iberville, who was selected by the King of France to defend the French claim to the Louisiana area in 1699.For most of the 19th century, the area was known as Back Bay, and its small population consisted primarily of descendants of D'Iberville's followers, and the French language and culture were pervasive.  During the early nineteenth century the Gulf Coast population grew as Anglo-Americans emigrated from Virginia, the Carolinas, and Georgia.  In the 1830s, more immigrants from France, Spain, Germany, Croatia and Switzerland began to arrive.  As these eastern European immigrants were ushered in, the D'Iberville fishing and boat building industry grew and helped with Biloxi's rise as the "Seafood Capital of the World."
In 1901, a wooden bridge connecting the area to Biloxi opened, increasing trade of seafood, produce, dairy, citrus, pecans, wool and timber to Biloxi and the railroad.  Early industry besides farming and trapping included a brick yard and the operations of kilns. These thrived from the late eighteenth and early nineteenth centuries to about the time of the Civil War.  Timber was a stronghold of the economy from late 19th century until the 1920s, when the turpentine industry began to develop. World War I boosted the economy, keeping Biloxi shipyards busy. After the war, canneries began to open along the Back Bay. The first coastal "Blessing of the Shrimp Fleet" was held in the waters adjacent to Sacred Heart Catholic Church in D'Iberville in 1929 at the request of the Austrian fishermen living in the area.